Teckmarx product range covers over 90% of the UK and European vehicle parc which is maintained with continuous range development. Teckmarx offer a cost effective solution that contains no re-manufactured product and specifications that match the Original Equipment.
Product Range:
Clutch Kits
Clutch Kits with CSC
Clutch Slave Cylinder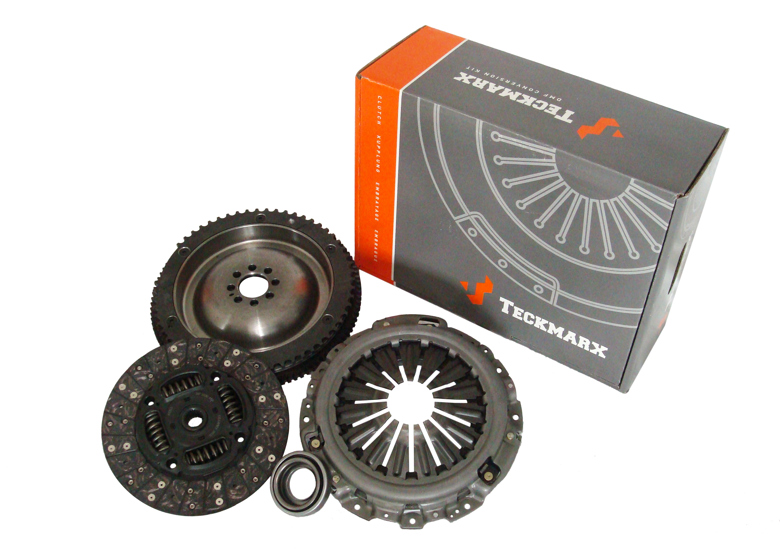 Teckmarx is a leading brand provides Single Mass Flywheel Solution
Key Benefits of using Teckmarx SMF:
A reliable solution to the DMF problem
Reverts to proven solid flywheel technology
Cost effective alternative to expensive DMF equivalents
Increased durability due to low wear parts
A comprehensive range with an ongoing development programme
3 year - 30,000 miles guarantee
What is an SMF?
SMF stands for Single Mass Flywheel as opposed to the popular two-piece Dual Mass Flywheel designs that are fitted to many passenger cars and light commercial vehicles as Original Equipment.
SMF v DMF
Dual mass technology is intended to give smooth tick over and drive characteristics for mainly turbo-diesel and high-performance applications. Unfortunately, these complex multi-component units have been plagued with reliability issues, often failing very early in their life expectancy.
Like for like DMF replacements are expensive and do not guarantee to be any more reliable than the original unit. The SMF Replacement reverts to the original solid flywheel technology that has stood the test of time over many decades. SMF kits include the damping system as part of the clutch plate design rather than in the flywheel as with duel mass units. Teckmarx SMF kits give reliable motoring at a much more reduced cost compared to that of replacing DMF unit.
What is included in an SMF kit?
Driven Plate with long travel damper
Cover Assembly
Fitting Bolts
Release Bearing (where applicable)
Solid Flywheel